Post by ★Bama★ on Dec 31, 2011 16:17:27 GMT -5
Bitty Buttons Press Release
MGA Entertainment Invites You to Enter the Magical World of Bitty Buttons
All-New Collectible Doll Line Fosters Imagination and Creativity While Teaching Children Important Life Lessons
MGA Entertainment launches Bitty Buttons(TM)
Press Release Source: MGA Entertainment, Inc. On Monday July 19, 2010, 2:49 pm EDT
VAN NUYS, Calif., July 19 /PRNewswire/ -- MGA Entertainment, Inc. (MGA), a worldwide leader in the toy industry, today announced the launch of Bitty Buttons™, a unique and whimsical collection of eight different 13" rag dolls who magically came to life when their very last stitch was sewn.
With a tag line of "Sew magical - Sew cute™", each Bitty Button™ was born on a special day in history and has her own personality developed by the fabrics used to make her.
Designed to encourage a child's imagination and creativity, Bitty Buttons™ teaches important life lessons such as diversity, individuality and the idea that everything deserves a second life. The Bitty Buttons™ live in a fantastical world full of silly surprises and with love and a bit of imagination, the Bitty Buttons™ magic can go on forever.
"Bitty Buttons™ was designed to teach kids that everybody is unique in their own special way. The new brand promotes the idea that old things can become new again, everything can be repurposed and nothing should ever go to waste," said Isaac Larian, CEO of MGA Entertainment.
MGA Entertainment invites you to meet the Bitty Buttons™:
Crumbs Sugar Cookie™ - Sewn on date: December 4th (National Cookie Day) - Crumbs was made from pieces of a baking apron. She is super-sweet, has perfect manners, and loves inviting friends over for tea and treats. She has a pet mouse.
Jewel Sparkles™ - Sewn on date: March 13th (National Jewel Day) - Jewel was made from remnants of a real princess' dress. Jewel is very graceful, a little bit bossy, and loves to dance and wear sparkly clothes. She has a Persian cat.
Peanut Big Top™ - Sewn on date: April 1st (April Fools' Day) - Peanut was made from bits of a brightly-colored clown costume. She is a silly prankster who's a little bit clumsy and loves to make her friends laugh. She has a pet elephant.
Bea Spells-a-Lot™ - Sewn on date: October 16th (Dictionary Day) - Bea was made from a school girl's uniform. She is a real smartypants, who always follows the rules and loves to talk...a lot!!! She has a pet owl.
Mittens Fluff 'n' Stuff™ - Sewn on date: December 21st (First day of Winter) - Mittens was made from pieces of an Eskimo's scarf. She loves hot cocoa, snow fights, and snuggling by the fire. She has her own pet polar bear.
Dot Starlight™ - Sewn on date: July 20th (First Moon Landing) - Dot was made from a real astronaut's space suit. She's a dreamer who loves science, and she's always got her head in the clouds. She has a pet bird.
Pillow Featherbed™ - Sewn on date: January 3rd (Festival of Sleep Day) - Pillow was made from pieces of a baby's blankie. She loves good stories, long naps, and her favorite snack is milk and cookies. Pillow has her own pet sheep.
Spot Splatter Splash™ - Sewn on date: October 25th (Picasso's birthday) - Spot was made from a painter's overalls. She's super creative and loves bright colors, big messes, and eating spaghetti. She has a pet zebra.
Visit the colorful 3D world of Bitty Buttons™ at
www.bittybuttonsworld.com
where Bitty Buttons™ magic is everywhere!
Susan Hale
MGA Entertainment
~~~~~~~~~~~~~~~~~~~~~~~~~~~~~~~~~~~~~~~
Bitty Buttons Trademark Info:
www.trademarkia.com/bitty-buttons-77924028.html
You can read the details of why the trademark for Bitty Buttons was not issued here:
tsdr.uspto.gov/#caseNumber=77924028&caseType=SERIAL_NO&searchType=documentSearch
LaLaLoopsy Trademark Info:
www.trademarkia.com/lalaloopsy-85103582.html
You can read all the details of the LaLaLoopsy Trademark being published here:
tsdr.uspto.gov/#caseNumber=85103582&caseType=SERIAL_NO&searchType=documentSearch
Alyssa Curran, then Online Content Manager at MGA Entertainment, is credited with re-naming the brand "LaLaLoopsy" following the trademark dispute. She includes this brand naming as a part of her online portfolio: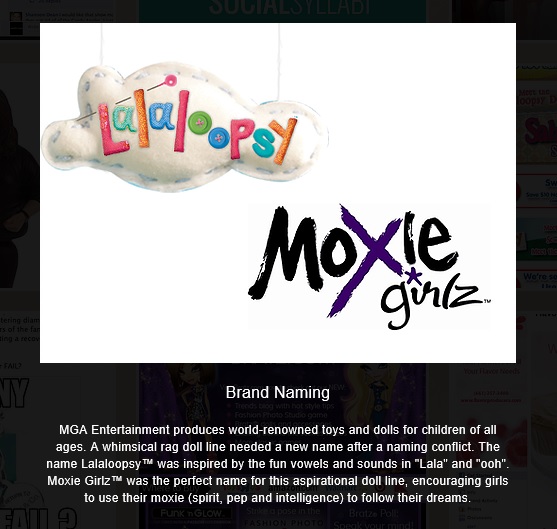 Source:
www.alyssacurran.com/portfolio